The Waldorf Hilton, London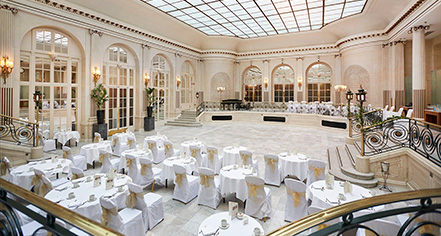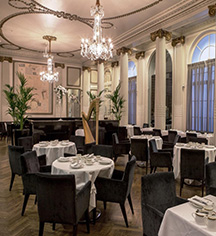 History
When the London City Council decided to widen the Strand in 1889, two British entrepreneurs saw a considerable opportunity for personal prosperity. The Strand served as a major thoroughfare in the center of London, with hundreds of travelers sojourning down the road every day. To alleviate the traffic, the council planned to demolish eight acres of buildings for the creation of a crescent-shaped boulevard named the Aldwych. Amid its construction, the two entrepreneurs, Edward Sanders and Thomas Wild, purchased real estate at the northern end of the Aldwych for the creation of a grand hotel. They both hoped that their hotel would enthrall the great flood of people that were certain to use the new boulevard.
Sanders and Wild hired the young, talented architect Alexander Marshall Mackenzie to build the structure. Mackenzie traveled extensively throughout New York City, drawing his architectural inspiration from the American hotels he visited. Upon returning to London, he incorporated the latest aesthetics from America into his design, including three grand entrance halls, a marvelous grill room, and an ornate, marble terrace. Each one of the hotel's guestrooms featured amenities considered modern for its time, such as electric lighting and telephones. Sanders and Wild named the building the "Waldorf Hotel" after the famous millionaire, William Waldorf Astor. The men hoped the Astor family name would affix great prestige onto the building.
The Waldorf Hotel opened with a glamourous Champagne reception in 1908. In a matter of years, the hotel became an illustrious venue filled with revelry. Exhilarating dance parties happened regularly at the Waldorf Hotel's Palm Court ballroom, with the tango in particular becoming a popular pastime at the hotel. By the 1920s, the Waldorf was hosting special Tango Teas at its restaurant to accommodate the dance's sheer popularity. Soon, a young musician named Howard Godfrey began coordinating the festivities at the hotel with his famous orchestra, The Waldorfians. Together, Howard Godfrey and The Waldorfians helped transform the Waldorf Hotel into a premier entertainment establishment in London.
The hotel has maintained its prestigious status, hosting lavish celebrations and ceremonies ever since. For its stature, preservationists registered the Waldorf Hotel as a Grade II listed building during the 1970s. In 2004, Hilton Hotels acquired the building from the Le Méridien hotel group, who had operated it as the Waldorf Meridien since 1995. Known today as The Waldorf Hilton, London, Hilton Hotels is proud to preserve the historic legacy of this wonderful building for a new generation of visitors.
The Waldorf Hilton, London, a member of Historic Hotels Worldwide since 2018, dates back to 1908