Villa del Quar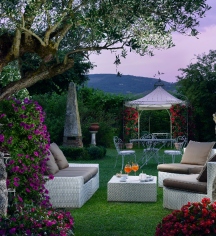 Activities & Events
Relax and enjoy the beauty of the surroundings while staying at the Villa Del Quar, plus engage in an array of activities. Learn refined culinary skills with a cooking class, take a cooling dip in the gorgeous outdoor swimming pool, or stroll through the peaceful gardens of the villa to taste the fruits from the trees. Embark on a wine tasting adventure through the local vineyards to pick out the perfect wine to pair with dinner or enjoy wine tasting at the on-site wine bar. The hotel offers private hotel transfer, available for a fee, as well as a helipad for those arriving by helicopter.
Pool
Take a summertime dip in the outdoor pool, or lounge and relax nearby the among the vineyards.
Wine Tasting
Try on of the three extraordinary wines that the Villa Del Quar produces: the red Satyrus, the special red reserve Sublitis and the white Ausia. Guests interested in trying these wines can participate in a wine tasting in the ancient Roman cellar, where a sommelier will tell the unique story of each of these interesting wines. The price for tasting two wines (Ausia and Satyrus) is 45,00 EUR per person. The price for tasting three wines (Ausia, Satyrus, and Sublitis) is 68,00 EUR per person.
Cooking Classes
Learn to cook in traditional Italian style with Chef Alessio Cera and his staff. With several different classes, guests can learn to make and revel in the delights of delicious foods, such as handmade pasta. The class is two hours, 65,00 EUR per person. Advance reservation required.
Biking and Hiking
Rent an e-bike or mountain bike or start walking to discover the rich Italian countryside. With the Valpolicella wine region, Lake Garda, and the Lessinia natural park nearby, the Villa Del Quar is close to plenty of cultural locations, such as vineyards, a silent ancient village, medieval castles, roman churches, natural vistas, and breathtaking views. A guided tour also be arranged.