Hotel Napoleon Paris
Paris, France
Preferred Advance Purchase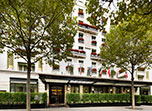 Full prepayment non refundable due at time of booking. No cancellation and no change to room type upon arrival date. City-tax of 3.30 euros per person is not included in the room rate and will be requested upon departure.
Policies
Reservation is non-refundable upon booking - cannot be cancelled or changed without charge. Full stay charge may apply.
Credit Card Deposit Required - full stay - tax included
There are no special offers currently available.