The Jefferson Hotel
Richmond, Virginia, United States
125 Years of Getaways Package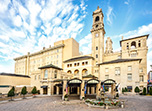 In the last century and a quarter, The Jefferson has become the destination for a quintessential urban getaway. Richmond's thriving arts, food and outdoor scenes make it as popular a destination as it was in the 1890's when Major Lewis Ginter realized his dream of opening a landmark hotel in his adopted city.
Package includes the ever-popular inclusions of:
• Traditional Southern breakfast for two in the restaurant
• Breakfast gratuities
Rates from $305 for premier rooms and $315 for grand premier rooms; based upon availability and subject to change without notice. Taxes are additional.

There are no special offers currently available.